2-deck USB DJ controller for Serato DJ Lite and DJUCED (included)
Built-in audio interface, 16 backlit RGB pads, large jog wheels, built-in hardware input mixer and retractable feet
The dj controller that will get you where you want to go!
Specially designed to help you get started DJing, refine your skills and perform live, DJControl Inpulse 500 is a great companion for all your needs.
---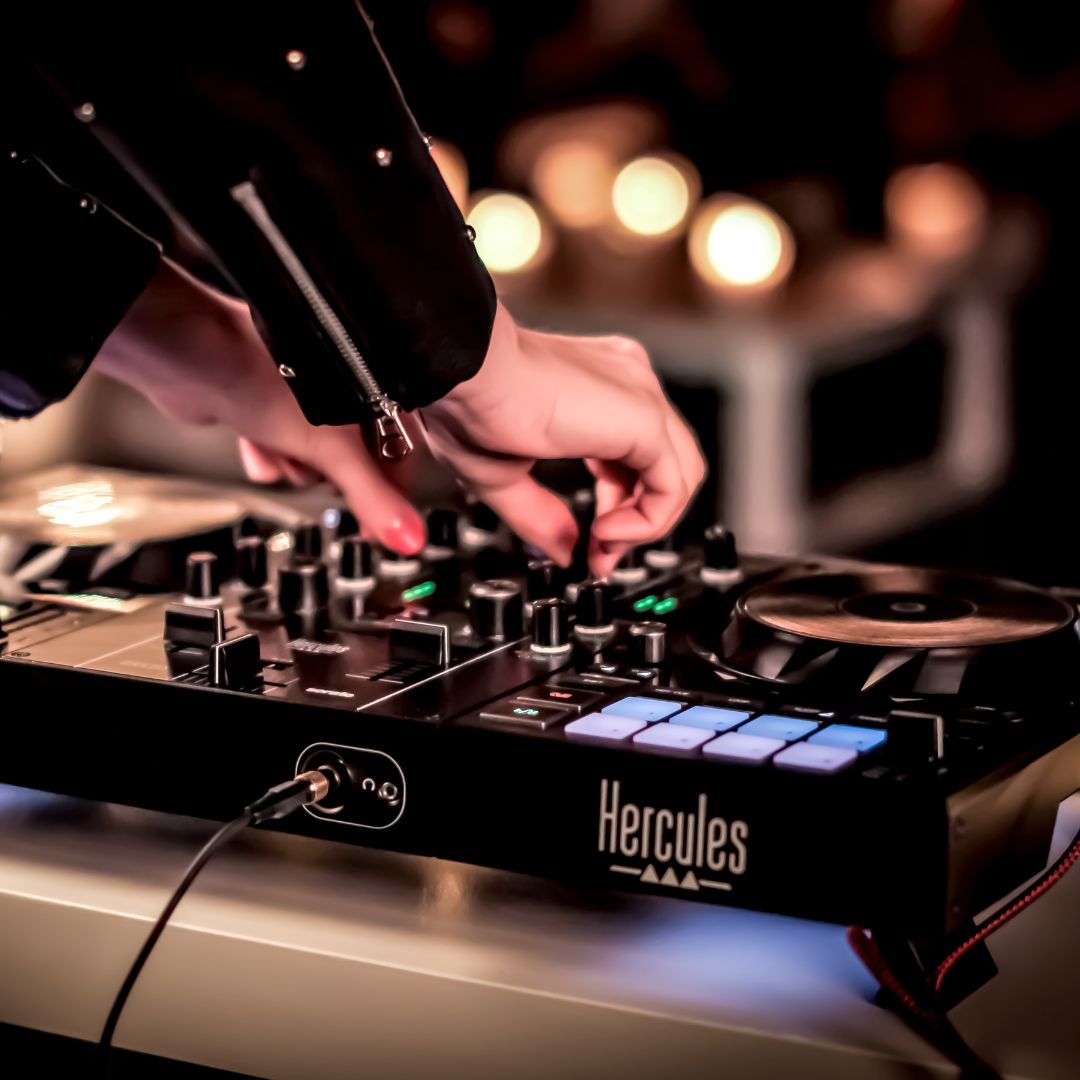 MIX A BACKUP EXTERNAL SOURCE
Hardware Input Mixer: the AUX FILTER knob lets you add a filter effect onto an external audio source (smartphone, media player, wireless microphone receiver…) — independently of the software! (Inputs: 1/8" / 3.5 mm stereo mini-jack or 2 x RCA)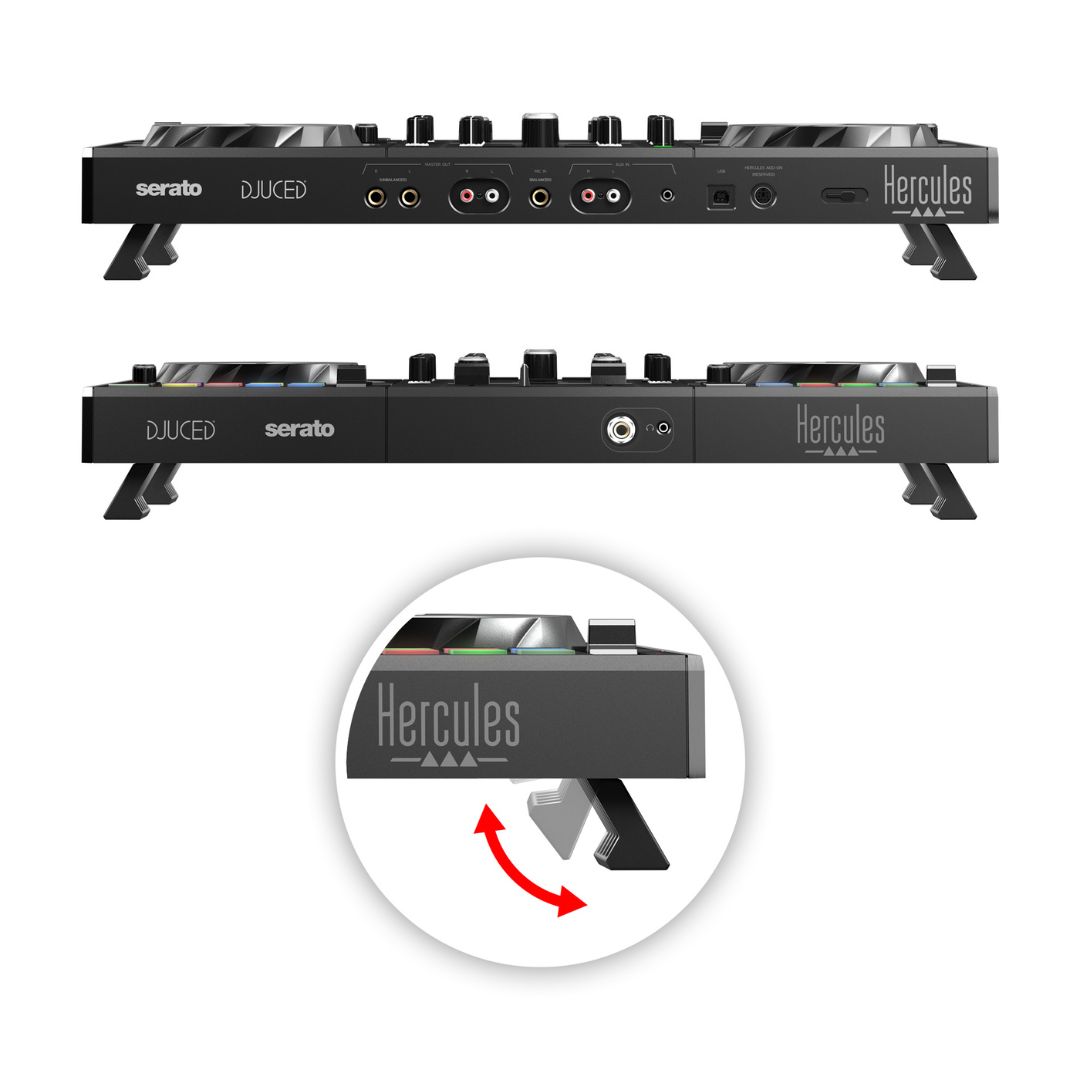 SOLID RETRACTABLE FEET
DJControl Inpulse 500 is 3.1" / 8 cm tall with its feet extended. Elevate your mixing: run wires underneath, and protect the controller from spilled drinks. The base is backlit when the feet are extended (i.e. folded out).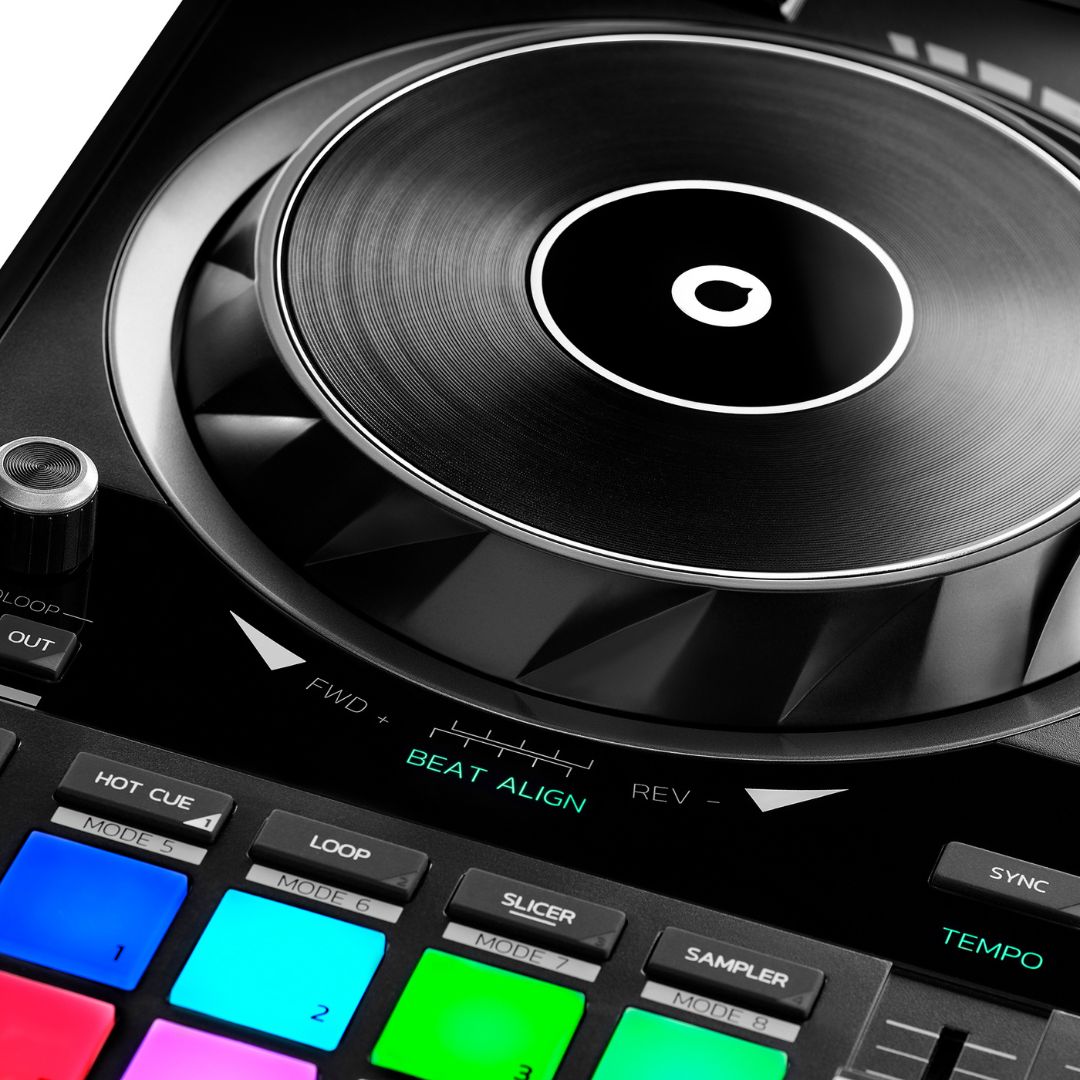 SYNC YOUR TRACKS MANUALLY
It's easy to manually mix one track into another with the BEATMATCH GUIDE light guides, which are supported by both DJUCED and Serato DJ Lite.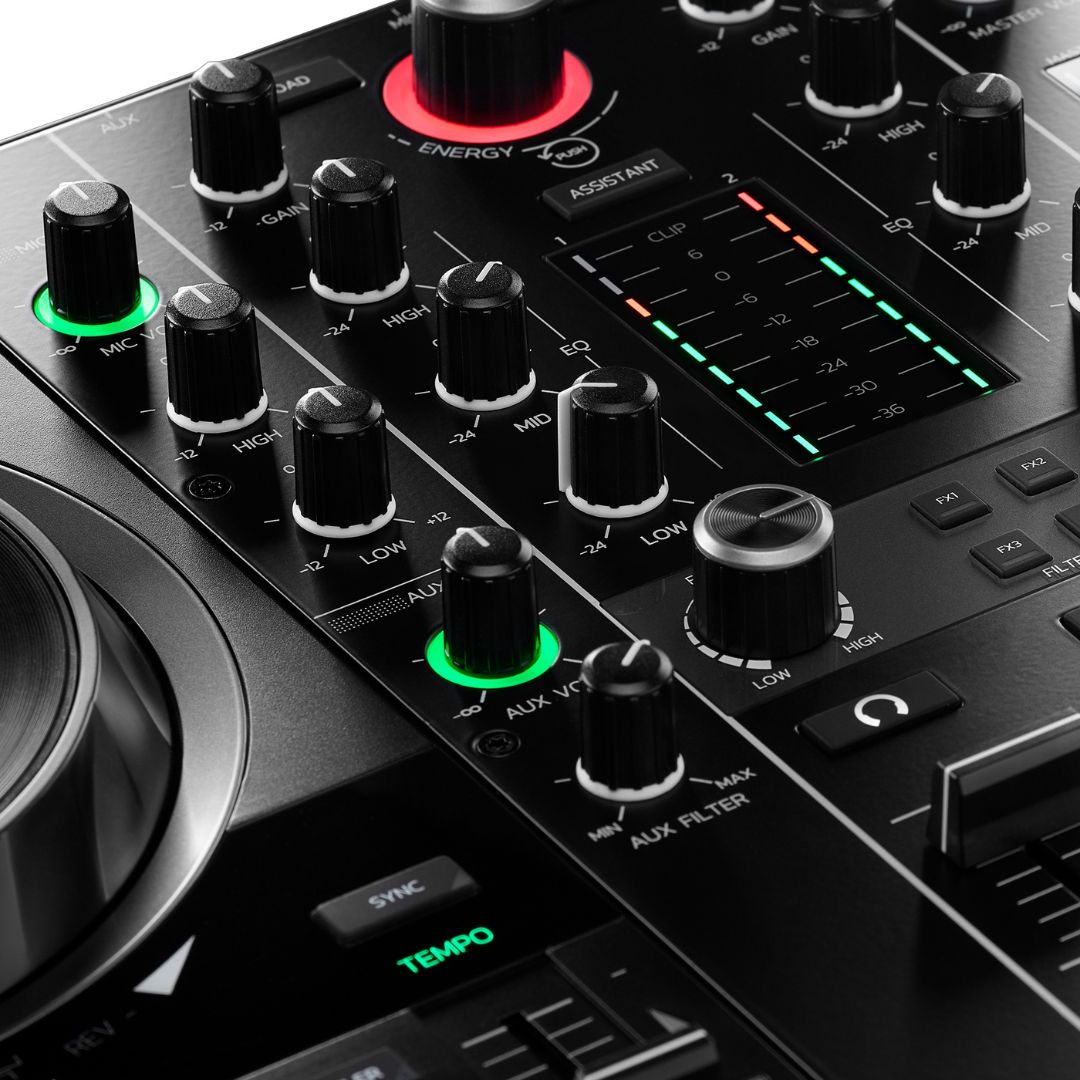 ADJUST YOUR CROSSFADER
Easily adjust the amplitude of the crossfader according to your style of music. Use the curve switch to change the crossfader curve directly on the controller (mix, scratch or off)!
---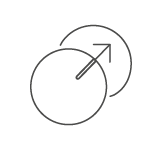 PRECISE
VELVET SOUND DSP technology.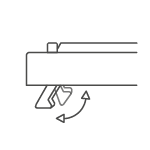 SOLIDLY BUILT
Sturdy metal backing plate on the mixer, rubber RGB pads, non-slip retractable feet, and more.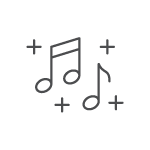 ACCESSIBLE
Mixing is easy, thanks to the helpful light guides.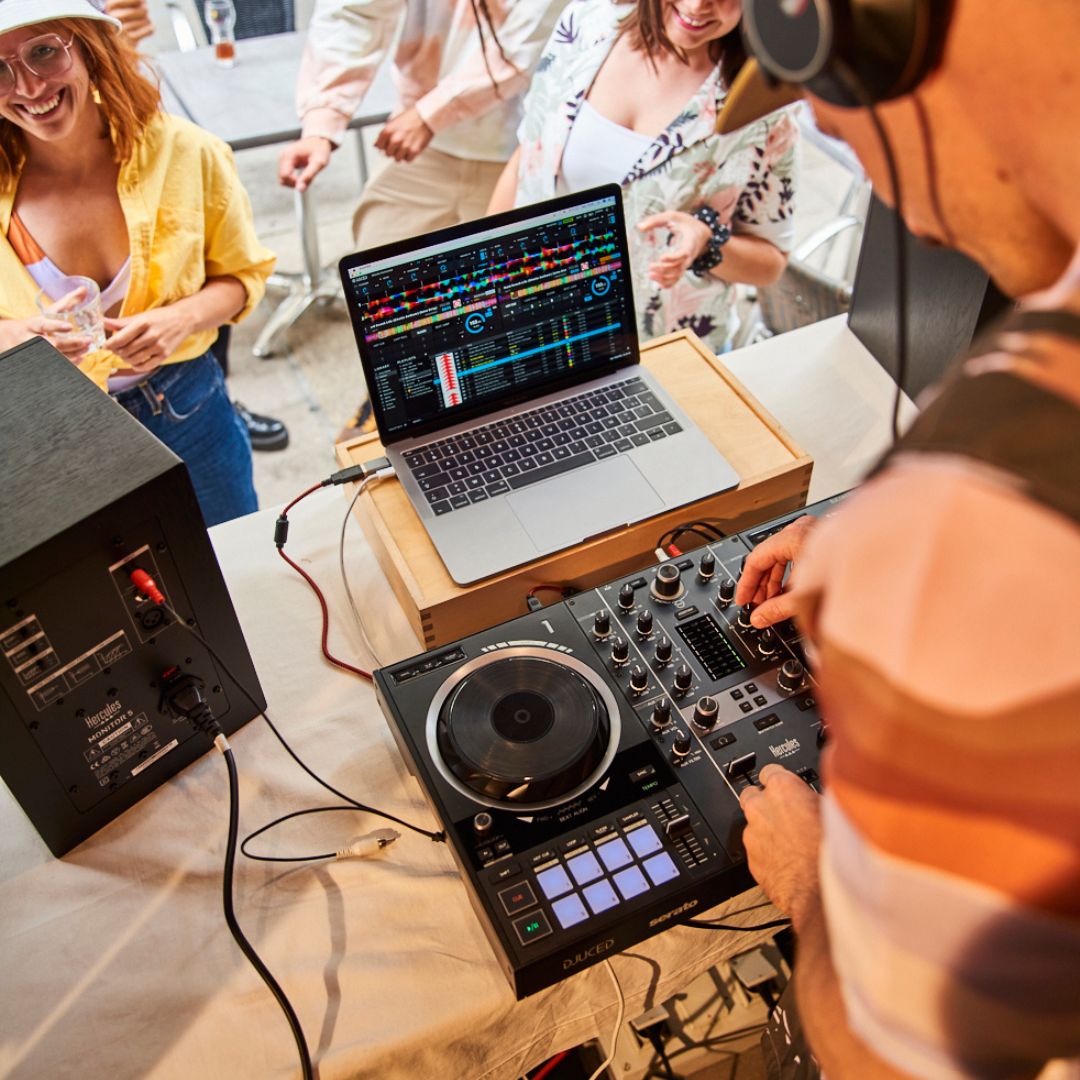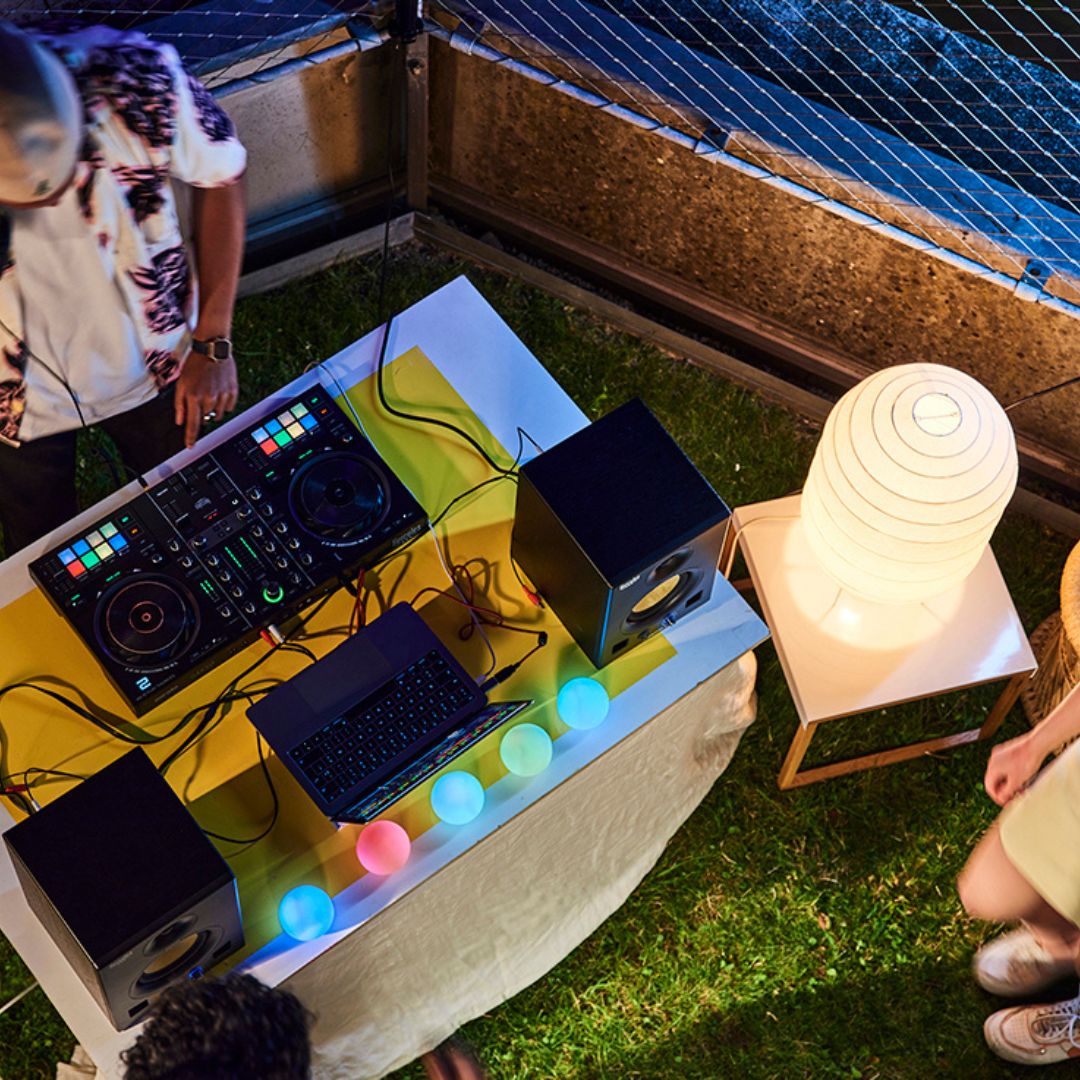 ADDITIONAL FEATURES

2-deck USB DJ controller with built-in audio interface and hardware input mixer for audio inputs.
16 backlit RGB pads, vinyl function, Loop In/Loop Out buttons.
Smooth, original transitions between tracks thanks to the Filter/FX area. Large jog wheels with touch detection for scratching.
Designed with retractable/extendable feet, to lift up the controller: keep it safe from spilled drinks!
Built-in hardware input mixer: you can even add a filter effect onto an external audio source (smartphone, media player…), and connect your microphone.
Powered via USB, with multiple connectors (balanced microphone input; 2 x 1/4" / 6.35 mm jack + 2 x RCA master outputs; 1/8" / 3.5 mm stereo mini-jack + 2 x RCA auxiliary inputs; 1/8" / 3.5 mm stereo mini-jack + 1/4" / 6.35 mm stereo jack headphones outputs).
Manually sync up your tracks like a pro with the Beatmatch guides, available in both Serato DJ Lite and DJUCED.
Follow the suggestions made by the Intelligent Music Assistant (IMA) for a great set in DJUCED, or let Serato do the mixing with the Autoplay feature.
Mix with music streaming services including TIDAL and SoundCloud GO+ in Serato DJ Lite, and Beatport LINK and Qobuz in DJUCED (subscription to music streaming service required).
Includes Serato DJ Lite and DJUCED. Compatible with Serato DJ Pro.