Loop size display Built-in audio Two grids of 16 performance pads
Description
A unique, all-in-one controller at the crossroads of DJing and performance
With 2 decks, screens displaying the sizes of loops, effects racks, equalizers and more, Hercules P32 DJ is perfectly designed for mixing.
Add in the two grids of 16 pads, sample packs integrated within DJUCED®, the slip and quantize smart functions... and you have a package with all the advantages for performance.
No compromise - Hercules P32 DJ represents the optimization of 2 worlds of DJing in a single unique controller.
CREATIVITY, PRECISION AND CUSTOMIZATION
Control of your mix is right at your fingertips, with 32 highly-responsive pads that feel great to the touch.
Easily control your loops, thanks to the handy knob and screen showing the loop size on each deck.
Seamlessly access your samples, by loading them on one or two decks.
Quickly turn your loops into samples, without having to go through any third-party software.
Slip mode and the quantization feature make live performances a breeze, giving you peace of mind during your sets.
Access 2 DJUCED effects racks directly on the controller, for unique mixes!
Make the move to 4 decks!
When used in conjunction with another Hercules controller (sold separately), Hercules P32 DJ lets you expand your mixing possibilities by making samples and effects even more accessible.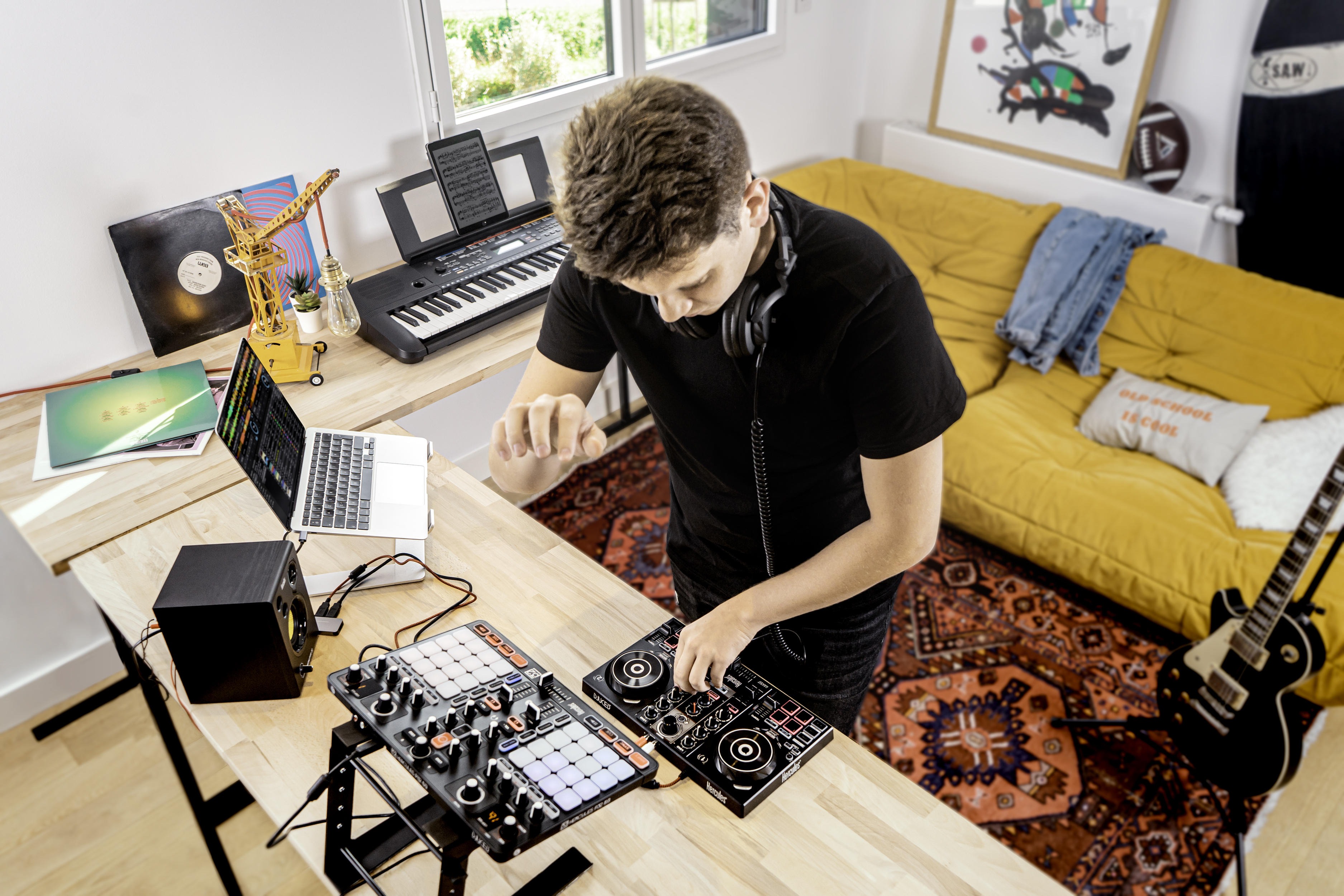 Develop your onstage presence
Being a DJ is much more than just technical skills and creating a playlist: it also involves your ability to put on a show.
Hercules P32 DJ lets you develop your signature sound, and your visual presentation.
The combination of pads, dynamic backlighting and sample packs helps you refine your identity as a DJ.
INCLUDED SOFTWARE
DJUCED® (PC | Mac) : https://www.djuced.com/
Complete and intuitive professional DJing software included
OTHER COMPATIBLE SOFTWARE (NOT INCLUDED)
The Traktor mapping file is available for download on Hercules' website
The Hercules P32 DJ is also compatible with all DJing software open to MIDI mapping, such as
Virtual DJ, Cross DJ, DJAY, etc. (not included)

READY FOR FINGER DRUMMING
Practice Finger Drumming with music production software such as:
Ableton Live, Garage Band, Bitwig Studio, Melodics, etc.
Technical specifications
DJ controller with dual mixing decks
Built-in audio (mix + preview outputs)
Two grids of 16 performance pads
Included software:
DJUCED® for Mac®/PC
Box contents
Hercules P32 DJ
Printed Quick Start guide
USB cable
Minimum configuration
System specifications
DJUCED® PC / MAC
•2 GHz CPU or higher
•2 GB RAM or more
•Windows 7 and higher (32 and 64-bit)
•Mac OS X 10.8 and higher(32 and 64-bit)
Download DJUCED®
Optional drivers are available for download on Hercules website
(ASIO and product firmware update)
---
WARNING: California Proposition 65 




WARNING: This product can expose you to chemicals including Bisphenol A which is known to the State of California to cause birth defects or other reproductive harm. For more information go to http://www.p65warnings.ca.gov/